Simply The Catz !!
---
Willie says "Just come a
little
closer ...
... I want to play some 'table-hockey' with you!!" ;)
---
"C.T."
April 1982- July 2001

"Short for CAT..."
A.K.A. Miss Garfielia Pinkney
C.T. is pictured above on top of the barbeque ...
( ... just looking for a sacrifice for the grill ;) )
---

"Little Miss Muffet - sat on her Tuffit - having her curds her own way...
along came a spider - and sat down beside her, - yet never more saw light of day!"
---
CT has many moods. The best description of her personality is that of the cartoon character Garfield... We were dog-sitting for my brother's dog "Holly," a sweet dog, but C.T. did not like the"restrictions" imposed by the "intrusion." ( Especially where food in the kitchen was concerned) You could cut the tension in the air with a knfe! Finally she'd had enough. One day she suddenly lept off the kitchen table and chased the yelping dog through three rooms! She came back , jumped up on the table shaking, and looked up at me chirping with pride! ( as if to say , I don't know if you approve of this or not but SOMETHING had to be DONE!) lol ... And yes, by the way, CT really can zero in on a spider and make a quick meal! ( YUK! Don't I feed you CAT!?) ;)
In the next photo, I had rounded the corner one day and came upon Miss Pinkney cool as a cuke on the barbi! I ran for my camera, and BEHOLD: She hadn't budged! Normally, C.T. wouldn't sit for a shutter, but this time she just squinted her eyes at me and seemed strangely smug! I was so impressed with our little 7 pounder that this is what came to mind ...
"The Olde Barbecue's fate was delayed while CT performed Squatter's Rites ...
She gave him a smoldering look, and said, "Go ahead... Bake my day!"
Related Stories?:
"Some Like it hot..."
"Cat on a hot tin roof."
"Mad Cats and American Men.."
"C'mon Ba-by, ...Lite-my-fire.........."
"Those Darn Cats! ............................."
"In Memorium: The RMS. Titanic............"
or
"Come now, and let us reason together..." ....Isaiah 1:18-20
"If thou, LORD, shouldest mark iniquities, O Lord, who shall stand?
But there is forgiveness with thee, that thou mayest be feared...."Psalms 130:3-4

CT really is lovable once you get to know her. Minus these imputed foibles, She can smile and has pink ears. ;)
---
"Anna"
April 1982-April 2003
"A Meezer" is short for "A Siamese."
She's a Meezer!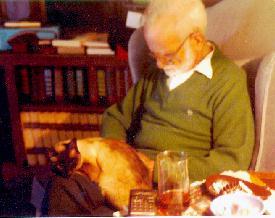 Here's Anna and Father Christmas watching the T.V.... or perhaps something with better pictures? Anna was born in 1982. She was best friends with the old Black Lab "Fran." She can open the cellar door and go down and up as she likes.
It's just a Meezerly thing: sometimes and for no apparent reason she walks up and down bellowing like only a Meezer can do. She's gone a little deaf in her later years and She can holler so loud a finger in each ear cannot block it out! .... she bypasses the ears altogether and goes straight to the soul! ... She insists that the whole Island hear her tale "Les Meezerables" (sigh) "Our Little Meezerette !" Sometimes I think she'd find it most convenient if I owned a papoose. I call it "My Lap" and, apparently, Anna does too. She's very sensitive and gentle; she gets along with strangers while she has a strong sense of justice!

AKA: "Puss -n-Boots" and "Baby Boo"- for her blue eyes.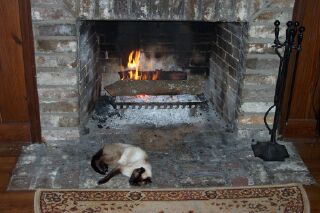 ---
"Wee Willie"
1986-1999
HRH "Prince William" Lilac Point Siamese
You see... Nanna always used to call every pet of mine "little Willie" be it Hamster, Canary, or Turtle...This time I made it official... He is really the Cat's meow...Nanna would have approved! His personality is much like that of the cartoon character Snoopy... only... more loyal. His Father's name was Dudley Doright. Go figure. He is always like a kitten; Wills is so good at Paper-wad Hockey he has to create handicaps for himself ... (he flops down in front of easily circumvented obstacles just to make it more difficult to swat the puck!) ... still ... in his humility, he rules the pride ! His greeting sounds something like "yel-low!" or "nyeah-waaaall" ... Yeah -Well ...We Love Our Willie!
---
Anyway... That Holy child Jesus is the Lion of the Tribe of Judah! ....!?... "Women, what have I to do with you, mine hour has not yet come.".....!?..... The Church is the bride of Christ. This is the work of God that you believe on him whom he hath sent. Blessed art thou Simon Barjona, for flesh and blood hath not revealed this to thee, but my Father which is in heaven. Amen.
i.e: Mary: a type of the Church
---


This page was first constructed when all
three cats were living and in excellent health.
*John F. Nimmich (Daddy was a youngster all his life,
always thinking of others first, and an absolute kid at Christmas! )
1924-1994
[]"Nanna" was Mother's Grandma.
Photos 1992 1996 Robert C. Nimmich
---